Business Field > Environment/Energy > ESS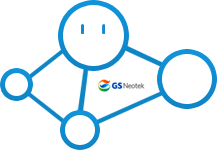 Energy Storage System
Essential system for improving energy efficiency and stable supply of new and renewable energy
The energy storage system is the system which stores and supplies the produced energy at the time when energy is required to improve energy efficiency. It can be utilized in the power system such as development, power transmission and distribution, and customers (buildings & plants). Also, the system solves the power quality problem which is one of the disadvantages in new and renewable energy to enable stable energy supply.
Concept of ESS
System which stores and supplies energy when it is needed most to improve energy efficiency


Need of ESS
Location of ESS configuration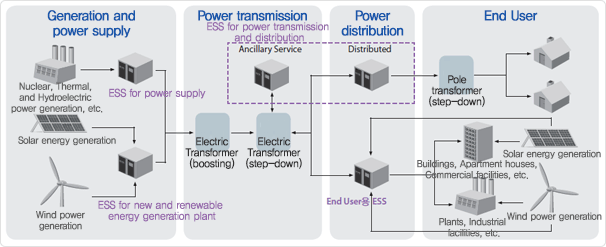 ESS (Energy Storage System) consists of Battery / BMS (Battery Management System) / PCS (Power Conditioning System) /EMS (Energy Management System) and other power distribution and communication facilities.
ESS configuration
Battery/BMS + PCS (Power Conditioning System) + EMS + protection system, etc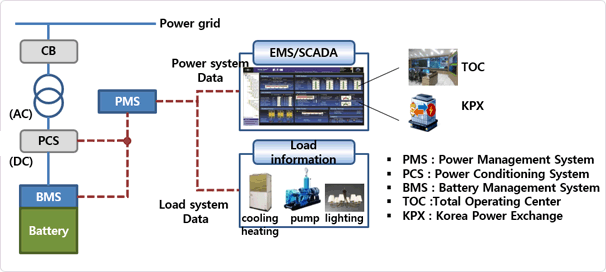 Battery : Perform charging and discharging of Grid/new and renewable energy generation
BMS : Perform the whole monitoring function of battery system (voltage/electic current/SoC/SoH/temperature)
PCS : Inter-conversion control between KEPCO (Grid)/new and renewable energy generation (AC) and battery DC power
PMS : Perform overall ESS monitoring including collection and monitoring of battery and PCS operation information and environmental facilities
EMS/SCADA : Perform energy management function of (x)EMS or IBS system in buildings and plants and overall energy management (predictive operation, evaluation and external system interlocking)

Main functions
System stabilization and large capacity power storage: Industrial facilities, power plants, substations and water treatment plants
New and renewable energy storage: Stabilize the power quality of solar energy generation and wind power generation
Uninterruptible Power Supply (UPS): Supply large power to applicable load independently when separated from the system
Power quality management of power transmission and distribution networks
Characteristics and advantages
Possible to increase capacity and change purpose according to users' needs
Increase user convenience through integrated management of hardware and software
Possible to apply battery suitable for the characteristics of each SMART GRID field
Verify the business model through demonstration business

Business Performance
Year
Project Name
2015
- Wind Power Storage System (ESS) for the GS E&R 59.4 MW YeongyangWind Farm
Project[16.8MW Power Conditioning System (PCS) / 50.4MWh Energy Storage
System (ESS)]
- Power Conditioning System (PCS) for the Construction of KEPCO 16MW Shin-
ChungjuSubstation for the KEPCO ESS Frequency Regulation (FR) Project in YR
2015[16MW Power Conditioning System (PCS)]
- Energy Storage System (ESS) for the National Smart Grid Supply Project in Korea
[2MW Power Conditioning System (PCS) / 4MWh Energy Storage System (ESS)]
2014
- ESS establishment (6.7MW/1.5MWh) at OchangFactory 1 of LG Chem
- GasanR&D Center (270KW/200KWh) of LG Electronics
- ESS distribution project of Korea Energy Management Corporation in 2014
- Suwon branch (500KW/250KWh) of Korea District Heating Corporation
- Anyang branch (1MW/500KWh) of GS Power
- Korea Railroad Research Institute (100KW/100KWh)
- Hyundai E&C Research Institute (100KW/100KWh)
2013
- ESS distribution project of Korea Smart Grid Institute in 2013
- SK Apartment-type Factory (750KW/550KWh)
- JungangInduspiaCo. Apartment-type Factory ((500KW/250KWh)
- ESS distribution project of Korea Energy Management Corporation in 2013
- Korea Institute of Energy Research (500KW/250KWh)
- Korea District Heating Corporation (500KW/250KWh)
- ChungbukNational University Hospital (270KW/250KWh)
Contact

| Representative | Field of Concentration / Profession | E-MAIL | TEL |
| --- | --- | --- | --- |
| Seung-yeub, Lee | Energy Storage System (ESS) | sylee11g@gsneotek.co.kr | +(82) 2-2630-5122 |
| Ki-yong, Yoo | Energy Storage System (ESS) | wj730730@gsneotek.co.kr | +(82) 2-2630-5186 |
Plant - Environment/Energy - Electric Machinery - Information & Communications - IT