Business Field > IT > ICT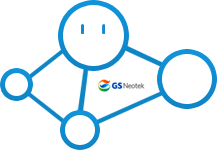 Voice and data communications that have been operated in the existing corporate communication environment can be operated through a single integrated network using IP Telephony Solution (IPT). In addition, it provides IP Telephony Contact Center Solution (IPCC) that is an intelligent Call Center solution that connects the customers with the desk helper through an IP Network. We provide our services to financial institutes such as Shinhan Bank, Meritz Fire Insurance, etc., general large-size enterprise such as Hyundai Express, and also public institutes, thus maximizing the convenience of the customers in a voice communication environment.

Cisco Unified Contact Center Enterprise (Previous Cisco IP Contact Center [IPCC] Enterprise) provides the functions of intelligent call routing, call treatment, network-desktop CTI (Computer Telephony Integration), multi-channel call management through IP infrastructure, etc. Cisco Unified Contact Center Enterprise connects the function of multi-channel ACD (Automatic Call Distributor) and IP Telephony in a single solution, which enables to rapidly distribute the scattered Call Centers Infrastructure.

Telephony is an internet protocol that uses data network instead of the existing corporate communication network in TDM type, resulting in an innovation in the communication environment.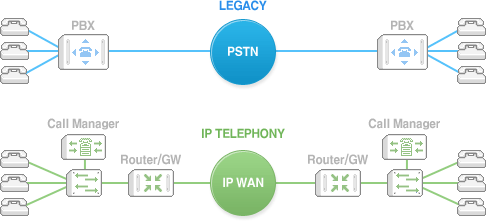 IP Telephony is an integrated solution that can operate in a network the existing voice and data communication operated separately in the corporate communication environment. By introducing IP Telephony, the enterprise can save the overlapped cost, which is spent to maintain two existing networks split into voice and data, and can have new application ground to secure competitiveness such as UMS (Unified Messaging System), IPCC (IP Contact Center), etc.


IP Contact Center (IPCC) delivers the management of contact between the desk consultant and the customer through an IP network using the intelligent type call center solution. IPCC consisting of integrated solution made of software ACD function and IP telephony enables to rapidly implement the contact center infrastructure supporting the corporate global e-sales and e-service initiative.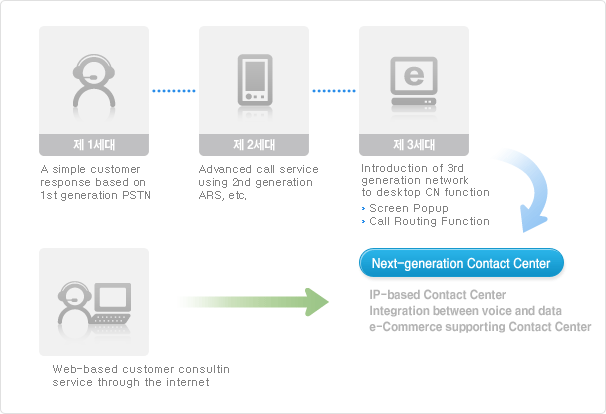 IPCC Solution Configuration CISCO IPCC solution consists of Call M anager (for PSTN interworking & IP Phone and Voice Gateway Management) IP IVR (for Call Queuing and User information entry), and ICM (for Skill-based routing screen pop up).

IP Contact Center
Year
Project Name
2016
- Call Center for NH NongHyup Life Insurance Co., Ltd.
- Integrated IT Infrastructure service for Hyundai Department Store Group
- Video Conferencing System/Solution for TONGYANG Life Insurance Co., Ltd.
- Provision of Security Solution, System Operation and Maintenance for Public
Homeshopping Co., Ltd.
- Call Center System Upgrade for Kyobo Book Centre's Customer Service Center
- Call Center System Upgrade for Ktoto's Customer Service Center
- Call Center for Starbucks
2015
- Customer Service Center for Woowa Brothers Corp.
- Customer Service Center for ING Life Insurance
- Customer Service Center for Yes24(Internet Bookstore)
- Customer Service Center for MiraeN Seohae Energy Co., Ltd.
- Network Construction for Nature Republic
2014
- Upgrading Call Center of Rush-and-Cash Group
- Establishment of Call Center for OK Savings Bank
- Establishment of PDS for Citybank Korea
- Upgrading the Call Center of Hyundai Cable Network (HCN)
- Upgrading the Call Center and App of Shinhan Bank
- Upgrading the Call Center of MG Non-life Insurance
- Establishment of Call Centers for AIA (Songnae and Gwangju centers)
- Establishment of IPT for Korea Employment Information Service
- Line service for DREAMLINE
- Establishment of Smart Work for SERVEONE
- Establishment of security solution for GS HomeShopping

2013
- Citi Bank IPCC Establishment (3,364')
- Seoul Bus IPTV Platform (12,903')
- Lotte Homeshoppong IPCC Establishment (790')
- AIA IPCC Establishment (1,495')
- Financial Supervisory Service DR Center Establishment (661')
2012
- Kyobo Life Insurance IPCC Establishment (531')
- Hana Savings Bank IPCC Establishment (92')
- Jungbu City Gas IPCC Establishment (90')
- Unicity Korea IPCC Establishment (88')
2011
- Korea Credit Guarantee fund IPCC Establishment
- Korea Employment Information Service IPCC Establishment
- IFCS Hilton Hotel IPT Installation
2010
- Kumho Life Insurance IPCC Establishment
- Solomon Credit Information IPCC Establishment
- Ace Mutual Savings Bank IPCC Establishment
- Kim & Chang IPT Installation
- GSShop Security/Network Infra Service
- Ilsan-xi Network Establishment
- Korea Housing Corporation Infra Service

2009
- Kyobo Books IPCC Establishment
- Doosan Capital IPCC Establishment
- Cuckoo Homesys IPCC Establishment
- Korea Credit Information IPCC Establishment
- Hyundai Mobis IPCC Establishment
- Gimpo International Airport Broadband Network Installation
- Marine Corps. Video Wall Installation
- The Navy Local area network Istallation
- GS Retail VPN Installation
2008
- E-Trade Korea IPCC Establishment
- Hyundai Department Store IPCC Establishment
- Defense Acquisition Program Administration IPCC Establishment
- IB Finance IPCC Establishment
- GS Gangnam Broadcasting IPCC Establishment
- Neowiz IPCC Establishment
- US Army Engineer Corps. IPT Installation
- GSShop NAS Storage Istallation
- GS Gangnam Broadcasting Data Cleansing, Security Systems Installation
- GS E&C RFID Installation
- Songdo Industrial Technology & Culture Complex Network Istallation
- G-Market DR Installation
- Interpark Backbone Network Installation
2007
- Green Fire Insurance IPCC Establishment
- Solomon Mutual Savings Bank IPCC Establishment
- Sports Toto IPCC Establishment
- Rush and Cash IPCC Establishment
- Daegyo IPT Installation
- Woori Capital IPT Installation
- Housing Gallery Digital Broadcasting AV Installation
2006
- Hyundai Express IPCC Establishment
- Meritz Fire Insurance IPCC Establishment
- Shinhan Bank IPCC Establishment
- HCN IPCC Establishment
- AMD Korea IPT Installation
- GSShop Security& control System/ Digital Broadcasting System Installation
- Korea Air Force Academy Network Installation
- Gangnam CATV DMC / Subscriber Integrated Management System Installation
2004
- Hanmaum Mutual Savings Bank System Installation
- Korea Worker's Compensation&Welfare Service Network System Infra Installation
- Korea Rural Community Corporation System Installation
- Ourhome VPN Installation & Infra Service
- GSShop CRM System Installation
- KISA KrCERT Network Installation
2003
- KT Hacking Response Center Network Installation
- Songpa-gu/Eunpyeong-gu Office Network Installation
2002
- Woori Investment&Securities Countrywide Network Installation
- Inchon University Library Security System Intallation
- GS Caltex Countrywide Oil Station Vpn Installation
2001
- Kyonggi-do 2nd Office Network Installation
1999
- GSShop Network/Security, eShop System Installation
- Inchon Munhak Stadium Network Installation
Contact

| Representative | Field of Concentration / Profession | E-MAIL | TEL |
| --- | --- | --- | --- |
| Soo Yong, Hong | IPT / IPCC / IT Infra | syhong99@gsneotek.co.kr | +(82) 2-2630-5333 |
| Dae Wook, Kim | IPT / IPCC / IT Infra | ordnung@gsneotek.co.kr | +(82) 2-2630-5404 |
Plant - Environment/Energy - Electric Machinery - Information & Communications - IT